The Practical Guide to Legally Play Music in your Business
Store · Coffee Shop · Restaurant · Hotel · Salon · Wellness & Spa · Gym · Workplace · Medical Practice · Event
There are about 40 million small and medium businesses globally. While 88% of them play background music daily in their store, to engage and motivate their customers as well as employees, only 17% of them use music that is licensed for commercial use.
We speak of a commercial use of music when music is played in locations that are used commercially. It involves of course restaurants or stores, but also cruise ships or doctor's offices.
 In fact, to legally play music in your business, as a business owner using copyrighted music tracks (e.g. Rihanna, Sting, Stevie Wonder, etc), you have to pay a fee to your local/national Copyright Collecting Society, e.g.: BMI, ASCAP, SESAC and GMR in the USA; PRS-PPL in the UK; SOCAN and RE:SOUND in Canada; GEMA in Germany; STIM in Sweden; etc.
Music licensing with BMI, ASCAP, etc: what to be careful about?
No matter whether you play music in your restaurant or cafe, background music is playing in your shop or you heat your customers with the right playlist in your gym, your task and own interest as a business owner is:
To ensure that the songs played are 100% legal and licensed for commercial use. So you stream music completely worry-free.


To make sure that the music is in fact well fitted to our in-store customers, to positively engage and motivate them in their purchase decision, and/or opinion about your location. You want them to spend more and/or to like the atmosphere and come back often. A happy customer is a returning customer!
As soon as you play copyrighted/licensed music in your location, you need to pay the related fee to be allowed to do so, and then fairly compensate the artists who created these cool songs. But that's not all! Regardless of your registration to the BMI, ASCAP, SESAC, SOCAN, RE:SOUND, PRS-PPL, GEMA, SACEM, KONA, BUMA, STIM, etc. and of the fee you have to pay them, you also need to make sure that you use a music service which is also licensed for commercial use. In a nutshell: 
You need a license from the PRS-PPL, GEMA, SACEM, KONA, BUMRA, STIM, etc. And you pay a fee to benefit from this license.

You need to use a (B2B) music service that is licensed for commercial use.

One exception:

if your business is located in the USA or Canada

, few legal B2B music services like

Soundsuit

or

Moodmedia

include all the licensing fees (e.g. BMI, ASCAP, SESAC, GMR, SOCAN, RE:SOUND) directly in their pricing. You do not need an additional license if you subscribe their music services.
Music services you cannot use legally in your business
Mainstream music services such as Spotify, Amazon Music, Pandora, Napster, YouTube Music, Apple Music, Qobuz, or Deezer are only licensed for private use. This means that you can listen to these music services at home with your family, or in your car or when jogging, but not in a commercial place like a business.
In Spotify's terms and conditions, we can read the following:
"We grant you (…) a limited, non-exclusive, revocable license to have personal, non-commercial use for entertainment purposes of the Content (the "License")."
or
"The service is for personal and non-commercial use only"
And on the support page of Spotify, you also find this, written black on white:

Copyright laws ensure that music streaming services pay fair royalties to the artists for the use/broadcasting of their musical work. Mainstream streaming services such as Spotify, Deezer, Apple Music, Amazon Music, Youtube and others meet the requirements for the private playback of music.
Why not using my Spotify or Apple-Music service because you pay a subscription for it?
For instance one Spotify subscriber can listen to any song on Spotify at home or in his car, alone or with his family and friends. But Spotify does not pay the higher royalties corresponding to the broadcast rights for the public playback of music in a business. For instance when you play music in a restaurant filled with 70 guests, the music work of the played artist is broadcasted to a large audience. This is a very different use-case than just one person listening to the same song alone at home.
The artist deserves to receive much higher royalties in the use-case of a restaurant. Many more people listen to the art work and enjoy it. This is why B2C music services like Spotify, who pay only micro financial compensations to artists per stream (of a unique listener at home) can not be used in a commercial context. Spotify does not compensate artists fairly for a large audience of 50 or 100 listeners. If they were, their monthly fee would be much higher than the 9.99 USD pricing.
Concretely, this means that you as a business owner, or any employee of yours, are not allowed to use your B2C music subscription (e.g. Spotify) – even a paying one, the so called "premium" – to broadcast music in your establishment! You need to use a music service that is licensed for a business use, which means a legal music service for business, that pay high royalties to artists based on the large potential number of listeners present at the business locations.
Which are the music services you can legally use in your business?
Companies like Spotify or Deezer or Apple Music are focused on providing an on-demand service to end-users. They then pay copyright fees to artists and record companies which are proportional to the number of persons that will listen to the music work they use (and broadcast/stream).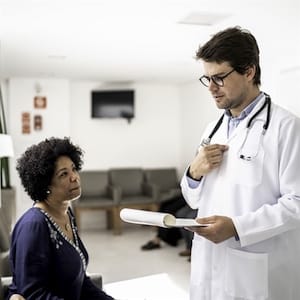 If you and your family at home are listening to the latest track of Dua Lipa, using Deezer, then this artist and the song's authors, producers and distributors will get a very little sum of royalty from Deezer.
But if you listen to the same song in a mall, surrounded by hundreds of other people, the copyright fees will be far higher than when only  one person is listening to the song. It is not in the interest of Spotify and others to cover such costs. Especially if they want to maintain their subscription at €9,90/month.
Playing background music to a larger audience is then playing in another league. These B2B music services pay higher copyright fees to artists and labels, and feature then a higher price than B2C mainstream music services.
We listed here for you the leading worldwide providers of professional background music for businesses:
If you want to get more information and details, you can refer to this easy-to-read comparative analysis of the top 10 music services for business.
Conclusion
Playing music in your business is not complicated when it comes to law, choice or pricing. It is simply different from playing music at home or in your car. The 3 basic things to know are the following:
First get a "music license" from your local copyright collecting agency (e.g. PRS, GEMA, SACEM, KONA, etc.). It goes with a reasonable fee. Please count about €100 /year for a 100m2 business surface.
Then, and even if you own a so called "Premium" subscription, do not use any mainstream streaming music service such as Spotify, Deezer, or Apple Music in your business. These providers are not licensed for commercial use and consequently do not fairly compensate the artists for the larger audience listening to their music work. To use these B2C music services is not legal and will lead to getting heavy fines when the local copyright collecting agency (e.g. BMI/ASCAP, PRS, GEMA, SACEM, KONA, etc.) will audit your business.
Use a B2B licensed music service in your commercial location to comply with the law. These B2B music services such as MyInstoreRadio, Soundsuit, or Moodmedia compensate artists fairly by paying them high copyright fees, proportional to the larger audience that listens to their music work while played in a commercial location. And if your business is located in the USA or Canada, few legal B2B music services like Soundsuit or Moodmedia include all the licensing fees (e.g. BMI, ASCAP, SESAC, GMR, SOCAN, RE:SOUND) in their pricing.