Sonos Sound System for Business: A Smart Investment In Your Venue and Brand
We already know that finding the right music for your business can impact a customer's mood and incentive to spend more time in the store. But it isn't just the genre or vibe of the music that is important. The next step is to invest in Sonos for Business, allowing your customers to have access to a premium listening experience.
The sound itself plays an important factor— how loud or mellow the volume is if the output quality is decent if there's unpleasant buzzing or distortion, and if the music is being heard clearly. It affects the way people view your business. You wouldn't want to blast gym music at maximum volume in a luxury retail outlet.
As a business owner, you need to have complete control over how you want to modify the ambiance of your store. But why make the financial investment in Sonos for Business? Let's explore!
Is Sonos for business a good best fit for your venue(s)?
We know that your goal is to create an engaging atmosphere for your clients, be it through music, lighting, or ambiance. While this sounds quite complicated, rest assured, with Sonos for business, you'll at least have the music part of it sorted out.
Before investing in any sound system, it is vital to know the factors that determine the quality of sound in your store. Sonos for business checks every possible box that you might have on your list for good sound and ambiance.
It is:
super easy to install
simple and user-friendly
has the option of adding additional speakers (in case you decide to move to a larger space)
dynamic and easy to connect to online music services like Soundsuit
a good deal for your money
optimum sound quality
How to choose the right music system for your business?
Some factors that you need to think about before deciding on the perfect sound system for your business:
What kind of hardware to choose?
This includes the number of speakers, and type of speakers, with cables or wireless.
What kind of music provider will you be using?
Music from the radio, personal CDs or mixtapes, or online streaming services.
Which copyright license is applicable?
…or maybe you don't even need a license, depending on your music source
What about License and Copyright issues?
This a good question to ask before purchasing any software or hardware for your business.
Worry not. When you purchase a subscription to Soundsuit for business, you already have that figured out. Installing and using Sonos for business is as smooth and hassle-free as purchasing and using Soundsuit!
What if I need to play different kinds of music at different times?
Just because Sonos for business provides the best listening experience, we don't mean it blasts music at all times of the day. Whether you want to play some active beats to hype your clients up for workouts at your gym or calming background noise for meditation, Sonos is built to complement the customer's experience.
Loungy Top Hit for a great morning start
Upbeat Pop for an happy hour
Happy Soul at lunch time
Why is Sonos one of the preferred sound system for small businesses?
Firstly, setting up this system is super easy and efficient. If you compare its features to some of the other sound systems available for businesses, you'll quickly find that Sonos for business offers a huge advantage over alternatives.
Some of its most striking features:
Light-weight nature – Speakers you can carry around if you decide to redecorate! say goodbye to heavy amplifiers and bulky sound systems.
Sleek design – To match the aesthetic of your modern store settings
Wireless technology – This means no more tripping on tangled cables spread across the floor
Control the music with your phone – Want to skip a particular song? Just use your Soundsuit account on your phone and shuffle the curated playlist we made for you.
The beautiful color options – want some monochrome look? We have it. Some posh pastels? You got it. You can switch up the decor according to a seasonal theme – whether it's Fall theme or Spring. With multiple colors to choose from, you will never have a boring speaker.
The technicalities – how to actually set up Sonos for business?
Sonos for business was a pioneer in rethinking how we imagine the sound in businesses. By combining modern designs, wireless technology, easy-to-use systems, mobile-centric control, and multi-room technology, they have proved that they truly are one of a kind. It is now one of the most prominent names for small and mid-sized businesses, and we would hate to see you being left out!
Sonos collaborations for business use
It is one of the reasons your customers will keep coming back to your store.
Sonos speakers aren't priced the lowest in the market. But if you consider all the benefits you're getting, it's an affordable option with a great return on investment.
What's more? Sonos for business works with other speakers too! Sonos has partnered with IKEA and Sonance to bring new price points and functionalities to their diverse customers.
Ikea Symphonisk – by Sonos
Symfonisk is a brand created by IKEA to democratize wireless music streaming to the masses of consumers
the technology is provided by Sonos
low-cost (starting price: 99€)
design friendly
good sound quality for the price

Sonos Architectural Range (in collaboration with Sonance)
professional
high-end sound and construction
designed-for-integration in walls or ceilings
features also outdoors speakers
Make your classic Hifi wireless and Sonos ready
Not only this, you can also make a traditional audio equipment (i.e. amplifier + wired speakers) Sonos ready. To allow this, Sonos offers a specific device: the Sonos Port. As soon as your amplifier and the Sonos port are connected, the sonos app installed on your device (smartphone, tablet, laptop), you can steer the music using the Sonos app.
The best part? It is also really simple to set up. Just follow these steps:
1. Connect the Sonos port to the power supply
Place the Port in your desired location and connect it to a power source. If you're stacking multiple Ports, make sure there is proper ventilation and that the Sonos Port does not exceed 104oF (40oC). Or else, it can result in WiFi interference and increased operating temp. To avoid this, move them or wire them to the network.
2. Connect the Sonos Port to your sound system
Audio outputs– Before playing any kind of music, you want to make sure that the amplifier is properly set to the input that the Port is connected to. Follow these step-by-step instructions:

RCA – Connect one end of the RCA cable to the Port's RCA outputs. They are labeled "OUT". Connect the other end to an RCA input on your amplifier. You can use the cinch audio cable for most amplifiers. However, if your device has a 3.5mm output, you will need a 3.5mm RCA audio cable.
Digital Coax – Connect one end of the digital coax cable to the Port's output labeled "DIGITAL OUT". Connect the other end to a digital coax input on your amplifier.
12V trigger – Port has a 12V trigger output with a current rating of 200mA that can be connected to an amplifier with a 12V trigger input. This will reduce the time it takes for the amplifier to become active and start outputting audio to your speakers sooner.
Line-Out Levels – Change the way you control the volume of your Sonos using the Line-Out Level settings.
a. Open the Sonos Mobile or Desktop App.
b. From the Settings tab, tap System.
c. Select the room with your Port or Connect.
d. Tap Line-Out Levels and choose one of the options –
Fixed – If you want to control the volume exclusively from your amplifier. You won't be able to use the Sonos app to adjust the volume or equalization settings.
Variable – To use the Sonos app to adjust the volume.
Pass-Through – The speaker stays at a fixed volume and sends volume commands to amplifiers that support pass-through. Control volume using the Sonos app, a universal remote, or your voice if you have a voice assistant enabled.
3. Check your Internet connection
You will need a stable Wifi network. Sonos works with any 802.11b/g/n router if it is set to 802.11b/g/n, as 802.11n-only configurations aren't supported by the Sonos ecosystem. You can also connect any Sonos product directly to the router via Ethernet. We strongly recommend you do this.
4. Set up your Firewall
Most firewalls should work with Sonos without any extra configuration. But if yours needs to be manually configured, make sure that the ports are open to the IP addresses of your device and that the inbound access is enabled for the Sonos application.
Choose Sonos for business together with Soundsuit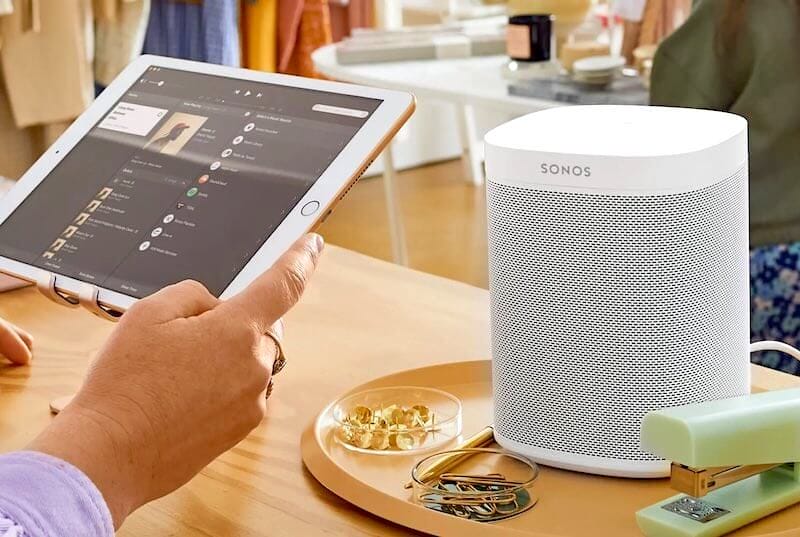 The golden combination! Use Soundsuit and Sonos for business to amplify your listening experience, and enjoy endless possibilities for multi-room listening in your store. Learn more about this tech cooperation on the dedicated site Sonos and Soundsuit partner for business.
Add Soundsuit service to your Sonos app
Once you have downloaded the Sonos App for your device (phone, tablet, laptop, desktop) and opened it:
Tap "Set up a new system" and create or sign in to your Sonos account. We recommend that you use the same email & password for both your Sonos and Soundsuit accounts.Tap "Add" on the popup showing your Sonos product. Follow the steps in the app to set up Sonos and add Soundsuit as a "new music service".
In the Soundsuit App:
Set up music in advance for any location, plan different playlists for different times of the day or week using the Music Schedule function and choose your target group, genre, and mood for different occasions.Plan music like a pro, but without the hassle.
In the Sonos App:
Steer your Soundsuit music within the Sonos app or controller. Launch a Chill music mood in your venue, and switch to a Happy mood few hours later. You want your Sonos system to play the music schedule you set up in your Soundsuit app? One click on "Schedule" and your Soundsuit music plan will start to play.
Try 30 days for free
No credit card required. Zero commitment.