Music for Bars: Soundsuit's Guide to the Perfect Bar Playlist
There is an endless variety of bars out there in the world. A visit to any large city is likely to offer up all kinds of options. There are cocktail bars where mixologists serve up bold new flavours and creative combinations. There are the many pubs, taprooms and brewhouses, pouring beers and local craft ales. There are neighbourhood wine bars, where locals gather around street-side tables. Some are refined and sophisticated, others sleek and cool, and some are unfussy places that simply offer a good time. The one thing they all share is the need for considered background music – playlists which improve the atmosphere of their space and enhance the customer experience.
Why is music in bars so important?
Arguably, music is more important in bars than anywhere else in the hospitality industry. As social places, it's vital that bars use music to create an atmosphere where people feel they can relax, meet friends and unwind. Selecting suitable background music for your bar is essential. That includes not just the genres and styles of music you choose to play but also the energy and volume.
Carefully considered bar music will create the ideal soundtrack to your customer's experience. It can impact their mood and energy, it can encourage them to have conversations and, ultimately, it influences the way they spend. However, before you head over to Spotify and find a playlist of popular hits, be aware that this is neither legal nor the smartest option for your business. Ensuring your customers have the best possible experience, that the drinks flow and your bar remains busy, takes a considered approach and the right kind of tools.
What Does Your Perfect Bar Playlist Sound Like?
There are many factors to consider when creating your perfect bar playlist. First, think about the ideal environment you want to create – does the function of the space shift throughout your opening hours or remain the same? Some bars might serve food throughout the day, for instance, before evolving into a more vibrant, energetic atmosphere for drinks. Others may only open for a few hours on weekend evenings or during summer afternoons beside the pool.
Creating the right environment will mean selecting an appropriate playlist for the time of day, choosing the genres that work best as well as the most-suitable energy levels. For instance, it's rarely the case that your bar should be playing overly energetic, pumping house music during the afternoon. This can be overbearing and intrusive at a time when your customers are looking to relax. Equally, nor should you have music that's too soft or downtempo in the evenings, making your space feel flat and lacking in atmosphere.
Getting your energy levels just right will depend on your bar's interiors, the purpose of the space and your customer demographics. Every bar is different and so too are the music requirements.
Let's take a look at some of the more common types of bar and how music can be best used to create that perfect environment.
Music for Cocktail Bars
Aside from themed bars, which range from speakeasies in underground stations to Wild West saloons, cocktail bars can generally be split into two categories. There are bars which are classic, refined and elegant and those that are more contemporary, sleek and modern. Music is equally important for both, and serves exactly the same purpose, but very rarely will the playlists sound the same.
Thinking about a more classic cocktail bar setting, with soft lighting, leather armchairs and smartly dressed bartenders. The music should feel appropriate to the space, if the interiors and the drinks served are classic in feel, then the playlist should reflect this.
Laidback, warm and intriguing jazz or soul will work well in the early evening. Be careful to choose music that has some bubbliness and personality to it, rather than anything too formal or stuffy. Remember, you might have a classic, elegant bar but your customers still want to unwind, it's therefore very important that you create an environment that feels casual rather than formal.
Take the two tracks below, both are jazz, and are great pieces of music in their own right. The first lacks the personality and positivity needed in a bar, however the second feels more appropriate – it's down to earth, cool and intriguing.
Bill Evans – Gary's Theme
Ramsey Lewis – Slipping Into Darkness
Later in the evening, it's ok to move towards more electronic sounds in your playlists. The energy and rhythm of electronic music can help give subtle energy to a crowded room, while a jazz track may get lost in the noise. At peak time, the key is to select music that's electronic but still has a classic feel to it. An easy way to achieve this is to find electronic tracks that use elements of jazz or soul within the music.
The track below by Mister T. is a great example of the perfect late night sound for a classic cocktail bar. It has a head-nodding energy to it, while still feeling very appropriate for the setting.
Mister T. – Just a Little Bit
For modern cocktail bars, like Soundsuit's client Good Spot in San Jose California, a more fresh and contemporary playlist is required. The interiors are brighter and sleeker, there are high ceilings, brushed concrete and metal surfaces. Like the space itself, the music needs to feel sleek, pared-back and modern.
Electronic music is a good choice in this bar but it's crucial that the energy levels are carefully chosen to suit the mood and the audience. Listening to the two tracks below, both are modern and sleek in feel, but, while the first works as a stylish background sound for drinks, the second feels too heavy, distracting and overbearing in this setting.
Satin Jackets – Out of My Head
Avalon Emerson – One More Fluorescent Rush
Music for Rooftop Bars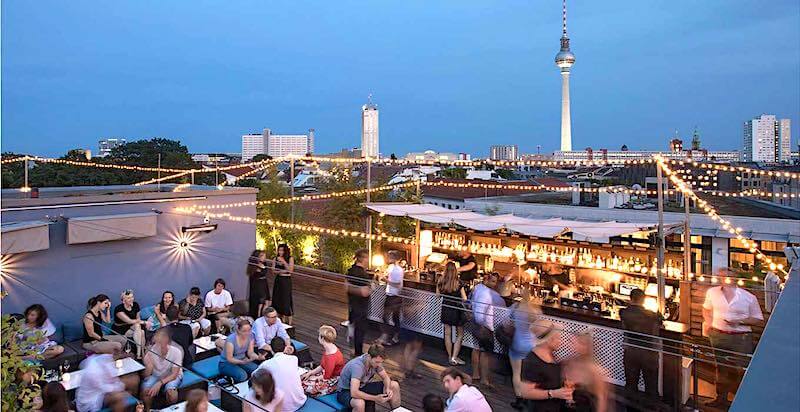 When creating your rooftop bar playlist, the same principles apply as they would at any normal cocktail bar. The genre, energy levels and mood of the music need to feel appropriate for the audience and the design of the space. As with cocktail bar playlists, successful rooftop bar music will help to enhance the atmosphere and experience of your customers.
The draw of a good rooftop bar is the setting, with customers often given fantastic panoramic views of the surrounding area. A carefully considered rooftop bar playlist will create the perfect soundtrack to the experience, with music selections that feel cinematic and emotive. Working with Tim Malzer's amazing Überland rooftop bar in Braunschweig, Germany, Soundsuit created a playlist that provided the ideal background sound for customers to relax with a drink in their hand and watch the sun set slowly over the tree-lined landscape below.
In a setting like this, the music can either be electronic or use live instrumentation. The key is to select tracks for your playlist that feel cinematic and expansive – the energy levels can be a little slower than in your average cocktail bar, with the music soundtracking the gradual setting of the sun across the surrounding views.
Here are two tracks that work well in such a setting. The first is electronic, while the second is a classic from Kool & The Gang, which uses only live instrumentation. Both achieve the same cinematic feel while remaining unintrusive, laidback and casual.
Akasha System – Sunbreather
Kool & The Gang – Summer Madness
Music for Pubs, Taprooms and Breweries
Craft beer is on the rise and so are the many great pubs, taprooms and brewhouses that serve it. Many pubs have evolved their look and feel, moving away from dimly-lit drinking dens into destinations that offer a range of drinks and food within brighter, well-designed interiors. An increasing number of independent breweries are also turning their spaces into destinations that not only brew beer but also serve it to customers at their in-house bars.
At pubs, customer demographics are changing and businesses need to adapt. In the past, many pubs either played no music at all or perhaps relied on an out-of-date jukebox. While it may be traditional, a lack of music within pubs can often make these places feel unwelcoming and drab. Customers head to your pub to have fun and unwind, so the music should create a buzz and warmth as people arrive.
Often a universally-appealing, eclectic mix of classic sounds and more modern tracks works well in a pub setting. Pick music from the past that people of all ages enjoy – classic soul, rock and pop gems are perfect. If you feel modern music is important too, try to avoid anything that feels too commercial or mainstream.
Often, the "sweet spot" with a good background pub playlist are the tracks that people recognise but aren't bored of hearing. Take a classic track by The Rolling Stones for example, or the music of Aretha Franklin. If you're looking for more modern music, something by a contemporary soul artist like Curtis Harding could work well.
The Rolling Stones
Under My Thumb
Aretha Franklin
Say a Little Prayer
Soundsuit currently provides music for a number of brewhouses that are rethinking the more traditional pub setting. In a growing trend across Europe and the United States, an increasing number of micro-breweries are also trading as bar spaces. With the bars often sitting side-by-side with brewing setup, ceilings are high, the interiors simple and pared-back.
For clients like Red Swing Brewhouse and Ineffable Brewhouse, the music needs to reflect the interiors whilst also appealing to the audience. Here, contemporary indie and rock works well. Never too heavy and with a universal feel, music by artists like The Black Keys and Kurt Vile was the perfect fit.
The Black Keys – Tighten Up
Kurt Vile – Lost My Head There
Music for Pool Bars and Beach Bars
There's no better feeling after a long day in the sun than relaxing with a cool drink by the bar. Whether your customers have been lounging by the pool or stretched out on a sunbed at the beach, a cold beer and a little shade can provide a welcome break from the sun.
At pool bars and beach bars, the best music playlists are those that provide a subtle background energy without being too overbearing. On sunny afternoons, the music should feel casual, eclectic and breezy.
A good place to start when selecting the right music for your bar is to think about the setting. By the pool, the design is likely to be cleaner and more modern, with white washed walls and blue tiles shimmering beneath the water. At the beach, the setting will feel more natural, the bay surrounded by rocky cliffs and the waves gently lapping onto the sand.
Try to reflect these settings in the music you select. At the pool, choose laidback tracks with a modern, electronic sound. Music by Seb Wildblood or Fakear (feat. Polo & Pan) or Poolside would work well for instance. Listening to them, you can almost feel the sunshine on your face, and within the simple, clean surrounds of a pool they would work perfectly.
Fakear feat. Polo & Pan
Lost in Time
Poolside
Can't Stop Your Lovin'
For a beach bar, music that uses live instrumentation is a good choice for the setting, as it emphasises the natural environment. You could select breezy soft rock, by Mother Funk for instance, or the music of Khruangbin or the track "Phoenix" by Rhye. 
Khruangbin
Two Fish and an Elephant
How Can Soundsuit Help You Create Your Perfect Bar Music Playlist
There's a lot to consider when creating the perfect music playlist for your bar but, with the right tool, you can ensure the process is quick and streamlined. Soundsuit is a simple, user-friendly app that uses smart technology to help guide you through the music curation process.
Soundsuit selects the right music for your bar based on the information you provide about your average customer. You can pick your favourite music genres or use the app's SmartGenres feature to intelligently select the best sounds for your bar. Soundsuit also allows you to effortlessly switch up the mood and energy of the music at the click of a button. It also gives you the option of leaving your playlist on autopilot using SmartMood. This feature uses smart data to automatically change the energy of the music throughout the day, allowing you to concentrate on the perfect customer experience.
Working with any sound system, the affordable Soundsuit solution is as simple as downloading the app and pressing play. It provides a fully legal alternative to using streaming services like Spotify or Apple Music, which many bar owners don't realise is illegal. All you need to do is cover the cost of a simple, yearly music license.
Create your perfect bar playlist today. Begin a month's free trial and see what your new personal music assistant can do for your bar.