Top Music Genres: Discover What Is Popular In 2023
Before we even dive into the long list of top music genres in the world, we have to accept one fact. Music is a second language to us. In fact, it even surpasses the boundaries of language. Our body automatically starts moving to catchy beats. And with so many top music genres that we have access to, there is so much to choose from. Be it a classic rock Led Zeppelin song or a dream pop by your new favorite experimental artist, there is something in the world of music for everyone.
What's even better is finding the #1 songs from the top music genres in a single place. Whether at home or walking on the sidewalk with your headphones plugged in, you need to be able to shuffle easily – not just between songs, but entire playlists depending on your mood. If you're going through a breakup, maybe Tayor Swift is your best friend. If you're on a road trip with your best friends, you might be jamming to "18 Till I Die", all at the touch of a few buttons.
But before commercial streaming platforms were so popular, listening to music looked quite different. Playing music on the gramophone, downloading music from LimeWire, burning CDs, tuning in to the radio, or attending concerts with thousands of others – there is a different listening experience for everyone!
Top music genres throughout the decades
Although The Weeknd and Drake are at the top of everyone's listening history this year, it wasn't always the case. The top music genres keep changing as music evolves. Over the past decades, some genres and artists have stayed evergreen, while others have been replaced by newer, more experimental styles of music. Let us take a look at the top music genres and major music festivals that shaped the history of modern music.
1940s
The 40s are known for their sophisticated and complex Jazz and Blues. It was also known as the "Swing Era", after the popular dance music – swing jazz.
Also, some of your favorite holiday music originated in this decade! That's right, this was the era of good ol' classics.
1950s
The era of the most famous Rock n Roll revolution. Interestingly, Rock n Roll was heavily inspired by swing music. Elvis Presley, the King of Rock n Roll, was a trendsetter with some of his greatest hits.
The 50s was also when the first ever Annual Grammy Awards were started. This prestigious award continues to honor the best producers, musicians, and songwriters in the music industry to date.
Major music festival: Newport Jazz Festival (1958)
Although this was supposed to be a festival dedicated to jazz, Chuck Berry made a heart-throbbing Rock n Roll performance, thus combining both popular genres of the decade.
1960s
The early 1960s started saw a huge upward trend in Folk music, led by artists like Bob Dylan and Joan Baez. In 1964, the Beatles started becoming famous internationally, inspiring several other iconic bands like The Rolling Stones and The Animals. This was also the era that saw the birth of sub-genres of rock like Hard Rock, Folk Rock, and Psychedelic Rock.
The 60s was also a time of social revolution and protest music, which included songs written against the war, racial injustice, and social change in general. This led to the popularity of African American Rhythm and Blues artists like The Supremes and Marvin Gaye, among others.
Major music festival: Woodstock (1969)
Apart from the Newport Folk Festival in 1965, this decade was home to not one, but two Miami Pop Festivals in 1968. Thousands of people flocked in to see Jimi Hendrix, Fleetwood Mac, and Joni Mitchel perform live.
However, the most popular music festival of the decade as well as in history was undoubtedly The Woodstock Music & Art Fair of 1969. Held in New York, this festival revolutionized the idea of concerts, transcending beyond the commercial aspects, and was attended by over half a million people.
1970s
An experimental decade for artists and music lovers, the 70s gave birth to newer genres Funk, Soul, R&B, Pop, and Disco. Simultaneously, hip-hop was also beginning to gain popularity. The 70s are remembered for great music by Led Zeppelin, The Eagles, David Bowie, and Elton John, among others.
The 70s was also monumental because vinyl records started becoming more popular, and more and more people started to listen to records at home!
Major music festival: World's Greatest Funk Festival (1979)
Organized at the Los Angeles Memorial Coliseum, the World's Greatest Funk Festival showcased some of the greatest artists in this genre, such as Rick James and the Stone City Band, Bootsy's Rubber Band, The Brides of Funkenstein, and Parliament Funkadelic.
1980s
The 80s was the decade of music videos and MTV. People remember this era with the faces of pop music – Madonna (the Queen of Pop) and Michael Jackson (the King of Pop), Prince, and Janet Jackson.
Major music festival: Rock in Rio (1985)
This multi-day concert was organized in Rio de Janeiro and lasted for ten days. Attended by 1 million people, the headliners of this concert were musical stalwarts like Iron Maiden, Queen, Ozzy Osbourne, and Rod Stewart. Another important festival of the 80s was the US Festival held in 1983, also known as "Woodstock of the 80s", and featured many Rock and heavy metal artists.
1990s
The 1990s is probably the decade that saw the most changes in trends. The early 1990s started with a grunge trend, with Nirvana at the top of the bending genres. People started listening to bands that performed songs beyond genres, combining alternative rock, classic rock, and hip-hop. Girl bands also became quite popular – you'd see posters of The Spice Girls in every teenage girl's room. More and more female artists started to be on the top charts. And in parallel to this, Trip-hop emerged in Europe, with bands like Massive Attacks, just followed by the Brit-Pop wave, with the artistic battle between two cult bands: Blur and Oasis.
Hip Hop and Rap started getting more attention on mainstream platforms. Rappers like 2Pac, and Ice-T made the genre even more popular. And by the end of the decade, female artist like Lauryn Hill made the hip-hop and R&B genre become totally mainstream and globally awarded and acclaimed.
At the same time when Lauryn Hill was popularizing Hip-Hop to the world, another major band of the 90's (and of the coming 2000'a) was bringing electronic music from the underground to the masses with their first album Homework: the Daft Punk.
Major music festival: Lollapalooza (1991)
Headlines by the rapper Ice-T, Lollapalooza was a huge success and continues to be one of the most popular festivals, with headliners like Kanye West, Radiohead, and Rage Against the Machine in the later years.
2000s
The age of the internet! The early 2000s were groundbreaking because, with YouTube and iTunes, people could now listen to, and share, music online. This was also the era of boy bands like the Backstreet Boys and One Direction. Pop superstars like Britney Spears and Christina Aguilera were shining too.
Not only this, R&B artists like Beyonce, Alicia Keys, and Rihanna added their contemporary touch to the old soul music. Also, artists like Taylor Swift were bringing country music to modern audiences. Rappers like Jay-Z and J. Cole began appearing on the top of Billboards.
Major music festival: Tomorrowland (2005)
One of the biggest EDM festivals in the world, attracting thousands of electronic music enthusiasts globally. It is also known for its brilliant set designs.
2010s-now
Every year, new artists release their debut albums and different audiences find new favorites. 2010-the 2020s is possibly the most exciting time when it comes to both musicians and listeners. From pop stars like Lady Gaga, Bruno Mars, Ed Sheeran, Adele, and Maroon 5 to rappers like Kendrick Lamar, Nicki Minaj, Post Malone, Cardi B, there is music for every type of listener.
Electronic music and DJs have also become popular with rising stars like David Guetta, Skrillex, Avicii, and The Chainsmokers, among others. We can decide what music defines this decade and many more to come.
Major music festival: Coachella (1999 – present)
Although it started out in 1999, Coachella remains the biggest music festival of the present decade. With artists like Billie Eilish and Harry Styles as headliners, this festival is attended by music enthusiasts and celebrities alike.
Top music genres people are listening to in 2023
According to popular surveys, these are the top 10 music genres that people will be grooving to in 2023. A mixture of usual suspects and new entrants, this year's list is pretty happening!
Pop
Pop literally stands for "popular music". Although it sounds confusing, it is really that simple. The peppiest and most well-received songs fall under this genre.
Hip-Hop/Rap
What initially started as an urban underground art form is now one of the highest-selling music genres in the world. Hip-hop has also impacted the fashion industry.
Electronic Dance Music (EDM)
EDM is considered a newer genre, but if you think about it, dance music was popular even in the 70s – with Disco music. Producers use computers, synthesizers, and samplers to create high-energy music played in clubs. Sub-genres of EDM are – house, techno, and trap.
Rock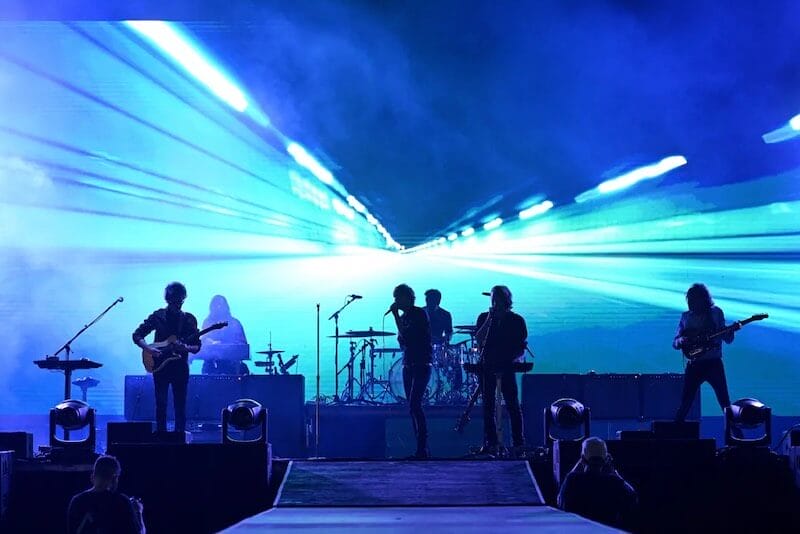 Started in the 60s and still going strong – this genre has dedicated fans around the world. Modern-day Rock also includes Soft and Alternative Rock. Bands like Foals, Arcade Fire, Franz Ferdinand, and Red Hot Chili Peppers are some of the contemporary Rock favorites.
Rhythm and Blues (R&B)
R&B began when African-American musicians experimented by combining blues with jazz in the 40s. R&B relies on powerful downbeats and vocals featuring blues-themed lyrics and melodies. Contemporary R&B artists include Khalid, The Weeknd, SZA, and Beyoncé.
K-Pop
One of the upcoming genres in terms of popularity, K-Pop has taken the musical world by storm. K-Pop is upbeat, and vibrant and includes a lot of dancing. However, the lyrics of these songs are in Korean and not translated for an English audience. Despite this, bands like BTS have received international fame.
Country
Country music makes everyone nostalgic. With its roots in bluegrass, Texas swing, folk, and gospel, country music has come a long way. Artists like Johnny Cash and Dolly Parton are the pioneers of this genre, often played on local radio stations.
Metal
Black Sabbath, Metallica, Iron Maiden, and Judas Priest are names that come to mind when thinking of Metal or Heavy Metal. Although not everyone's cup of tea, there is a dedicated fanbase for this genre.
Indie (includes Indie Folk, Indie Pop, and Indie Rock)
Indie means independent music, most often meaning smaller artists who are not in the mainstream, and who produce their own music. Far from the charts and awards, Indie and it's sub genres have attracted many around the world.
Classical music
Although one of the oldest genres, this one is still golden. People still listen to symphonies and operas, and children are taught Classical music when they start learning music.
Contemporary Soul
Contemporary soul music combines elements of the soul with pop, R&B, funk, hip-hop, and electronic music. It has been in vogue in recent years and in 2023, it is sure to grow in its popularity.
Electronic
A club goers' favorite, electronic music is created using electronic musical gear, circuitry-based music technology, and digital musical equipment. It will continue to be all the rage at parties and music festivals such as Tomorrowland and Coachella in 2023 as well.
How has technology impacted the top music genres?
Technology has made listening to music super accessible, affordable, and convenient. You can be anywhere in the world and listen to any artist you can think of. The shuffle option also helps you discover new music by recommending similar songs to the ones we enjoy and play on repeat. Some apps like Spotify also create a year-round listening report for you, based on statistics. Pretty cool, if you ask us.
Apps like Soundsuit let you control the music according to the traffic, or different times of the day. And you can do this if you're signed in to your account, from the opposite end of the world too. How simple!
Did you know you can get in trouble for using Spotify in a commercial space?
Even though Spotify is installed on everyone's phones, it has some legal implications that you might not know of. For instance, did you know that you can be sued for playing music on Spotify in a commercial space? As a business owner, you might need to pay attention to licensing and copyright laws. Instead, consider a subscription to apps like Soundsuit that will make your job 10x easier. Just log in to your account and manage your playlists, anytime, anywhere.
Try 30 days for free
No credit card required. Zero commitment.